Wesleyan climbing in the ranks 
Wesleyan College is regularly ranked in several of the nation's largest "Best Colleges" polls. Depending on the ranking organization, the findings are based on a wide array of data and information, and can include such areas as, affordability, green efforts, campus diversity, graduation rates, professor-to-student ratio, job placement rates, student satisfaction, alumnae success rates, and others.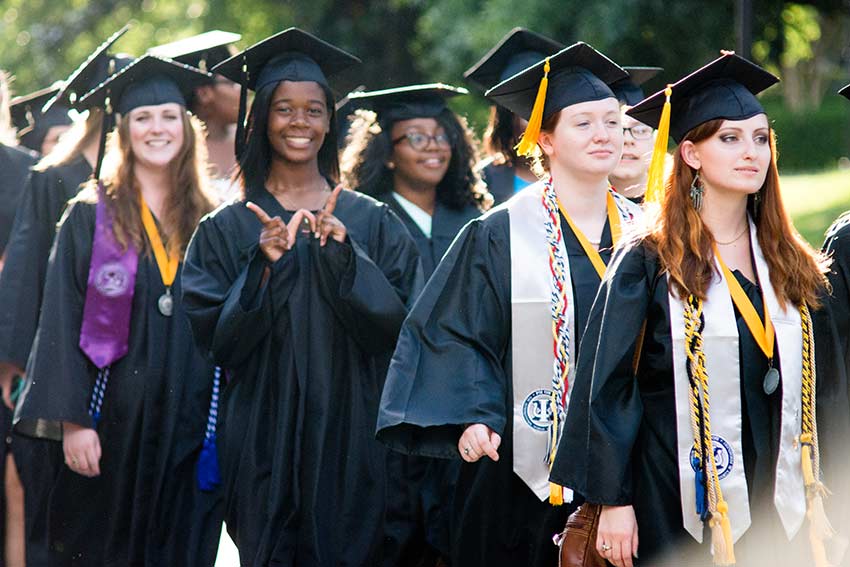 The AcademicInfluence.com series "The Best Colleges & Universities in the USA" has updated its rankings covering multiple categories of higher education institutions in the state of Georgia for 2022. Wesleyan College ranks within the top five in three categories and number seven out of ten in another. Read more about these catagories.
Wesleyan College earned the 2021 Campus Prevention Network Seal of PreventionTM for exemplary efforts to foster student safety, well-being, and inclusion through online prevention programs. Fewer than 15% of US institutions have earned this distinction this year. Learn more about the Seal of Prevention here.
College Consensus Ranks Wesleyan College as 6th Best College in Georgia for 2021
By combining the results of all of the most reputable college ranking publishers and thousands of real student reviews from around the web, College Consensus provides the most accurate and comprehensive ranking of a school's reputation and quality available anywhere.
Wesleyan ranks as the nation's 10th Best Online Bachelor in Business Administration Degree Program
Best Value Schools recently ranked Wesleyan's 100% online bachelor of business administration (BBA) program as the tenth best in the nation. The ranking is particularly impressive considering the College introduced the online program for women, along with degrees in accounting and applied psychology, just two years ago. Wesleyan's trademark small class sizes are taught mostly by full-time faculty and feature real-time collaboration with a tight-knit community of instructors and classmates. 
Also ranked as the nation's thirteenth Best Women's College by College Consensus, Wesleyan's transfer-friendly online degree program offers academic specializations in organizational behavior or strategic management. The program features flexible, accelerated degree options, personalized learning support from a dedicated academic advisor, free tutoring, and full access to Wesleyan's campus, including Willet Library. 
Wesleyan College′s online programs ranked among the best in the nation by U.S. News
Having assessed the overall academic quality of more than 1,641 online programs, U.S. News ranks Wesleyan's Online Bachelor's in Business Program 65th in the nation and their Online Bachelor's Programs overall 256th best in the nation. Wesleyan's ranks are particularly impressive considering the College introduced online programs less than two years ago to include business, accounting, and applied psychology. Wesleyan's trademark small-class-sizes are taught mostly by full-time faculty and feature synchronous collaboration with instructors and classmates. 
U.S. News ranks Wesleyan as a 2021 Best National Liberal Arts College
In its 2021 list of Best Colleges, U.S. News includes Wesleyan among the Best National Liberal Arts Colleges with special recognition in the Social Mobility Index category for enrolling and graduating large proportions of financially disadvantaged students awarded with Pell Grants. The vast majority of these federal grants are awarded to students whose adjusted gross family incomes are under $50,000.
 
Wesleyan College Named to The Princeton Review's 2021 "Best in the Southeast" List 
Wesleyan College is one of the 142 best colleges in the Southeast according to The Princeton Review's "2021 Best Colleges: Region by Region" website feature that posted on August 18, 2020. The Princeton Review also lists Wesleyan as one of America's most environmentally responsible colleges in the annual edition of its "green guide," with a ranking of 91/99.
The website salutes a total of only 655 colleges that The Princeton Review recommends over five regions: Northeast, Southeast, Midwest, West, and International. These 655 colleges constitute just 23% of the nation's four-year colleges. The schools are selected primarily for their excellent academics but The Review also factors in what students report about their campus experiences.
 
Wesleyan Ranked as a Top Five Best College in Georgia
According to the personal-finance website WalletHub, Wesleyan College is one of three Middle Georgia colleges ranked in the top ten of the 2020's Best Colleges within the state. WalletHub ranks the colleges as follows:
Wesleyan College ranked 4th
Georgia College & State University ranked 5th
Mercer University ranked 6th
Georgia Institute of Technology ranked 1st, Emory University ranked 2nd, and the University of Georgia ranked 3rd. In a breakout of top schools based on region, Wesleyan is ranked 27th out of 328 campuses in the southeast. 
WalletHub compared more than 1,000 higher-education institutions in the U.S. based on 33 key measures grouped into seven categories. Those categories include student selectivity, cost, financing, and career outcomes. Also weighted are student-faculty ratio, faculty resources, campus safety and experience, graduation rates and post-attendance median salary. Wesleyan ranked 126th in the nation. 
Wesleyan is ranked the fourth safest school in Georgia in a newly-released 2019 college rankings report by the consumer research website WalletHub.


Wesleyan Ranked #2 in Best Christian Colleges in Georgia for 2021
With a near perfect score of 99.6, Wesleyan College ranks as the second best Christian College in Georgia according to EDsmart. Emory University ranked first with a score of 100.
Chartered as the Georgia Female College on December 23, 1836, Wesleyan was founded through the efforts of a group of Macon citizens and the Georgia Conference of the Methodist Episcopal Church as evidence of their concern for the education of women. Wesleyan is grateful for her long-standing relationship with the United Methodist Church and the spiritual grounding it provides. From this foundation, the College embraces opportunities for interdenominational and interfaith dialogue, and celebrates the many religious traditions represented at Wesleyan.
EDsmart gathered information from the U.S. Department of Education websites, College Scorecard and College Navigator, in order to help students assess the affordability and value of top Christian colleges in Georgia. The rankings are based on data that covers four main areas:
Cost (average net price)
Academic quality (graduation rate)
Student satisfaction (retention rate)
Salary After Attending (the median earnings of former students who received federal financial aid, at 10 years after entering the school)
Furthermore, Wesleyan students who major or minor in Religious Studies or Philosophy and earn a 3.0 GPA or higher have the unique opportunity of guaranteed admission into a Master of Divinity or Master of Religious Life program at Emory's Candler School of Theology (one of the top theological schools in the country). 
Wesleyan ranks on four College Consensus Best Colleges lists for 2020
The College Consensus methodology pulls together rankings from Forbes, Money, U.S. News & World Report, The Wall Street Journal, Wallethub, and Washington Monthly. Then we average thousands of real student review scores from sites like Cappex, Niche, Student Review, and others, to get the full picture of how students see their colleges to produce a unique College Consensus rating for each school. 
Wesleyan College ranked #5 - Top Schools in Georgia
Behind Georgia Tech, Emory University, University of Georgia, and Spelman College.
Wesleyan College ranked #10 - Best Women's Colleges
Wesleyan College ranked #88 - Best National Liberal Arts Colleges
Spelman is the only other Georgia college on the list.
Wesleyan College ranked #89 - Best Value Colleges and Universities (Most Affordable)
Wesleyan is the only Georgia college to be ranked.
James magazine ranks Wesleyan as one of Georgia's Top Colleges for 2020
According to James magazine, Wesleyan College ranks #6 among the Top Ten Colleges in Georgia for 2020. Rankings are based on undergraduate institutions that offer limited, if any, graduate programs. James' rankings are based on criteria that include admissions standards such as standardized test scores, career placement after graduation, and more. This is the second year Wesleyan has appeared on the prestigious list.
In 2018, James ranked Wesleyan as a Top Success Rate college. This set of rankings list the colleges and universities that are tops for making sure their students have the tools to graduate and succeed.
 
NOTE: Wesleyan College is among a growing number of colleges and universities to sign a statement prepared by the Education Conservancy advocating changes in the U.S. News annual college ranking. By signing the statement, Wesleyan specifically agreed not to participate in the U.S. News peer assessment survey but will continue to provide all other data to the publication. By opting out of the survey's largest section, colleges intend to encourage U.S. News to alter its methodology, to promote best practices within the higher education industry, and to offer consumers a better resource guide. Wesleyan College supports a national initiative to provide comprehensive public information to help prospective students judge the quality of higher education institutions. Go to: www.ucan-network.org