Wesleyan climbing in the ranks 
Wesleyan College is climbing the ranks in several of the nation's largest polls. The rankings were all based on a wide array of data and information, including graduation rates, professor-to-student ratio, accreditations, and job placement rates.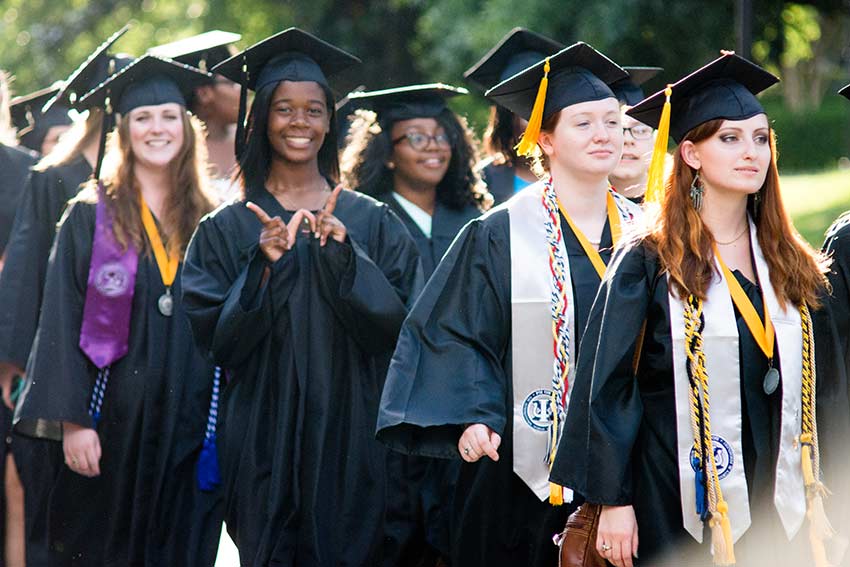 Wesleyan Ranked as a Top Five Best College in Georgia
According to the personal-finance website WalletHub, Wesleyan College is one of three Middle Georgia colleges ranked in the top ten of the 2020's Best Colleges within the state. WalletHub ranks the colleges as follows:
Wesleyan College ranked 4th
Georgia College & State University ranked 5th
Mercer University ranked 6th
Georgia Institute of Technology ranked 1st, Emory University ranked 2nd, and the University of Georgia ranked 3rd. In a breakout of top schools based on region, Wesleyan is ranked 27th out of 328 campuses in the southeast. 
WalletHub compared more than 1,000 higher-education institutions in the U.S. based on 33 key measures grouped into seven categories. Those categories include student selectivity, cost, financing, and career outcomes. Also weighted are student-faculty ratio, faculty resources, campus safety and experience, graduation rates and post-attendance median salary. Wesleyan ranked 126th in the nation. 
Wesleyan is ranked the fourth safest school in Georgia in a newly-released 2019 college rankings report by the consumer research website WalletHub.
 
U.S. News ranks Wesleyan as a 2020 Best National Liberal Arts College
In its 2020 list of Best Colleges, U.S. News includes Wesleyan among the Best National Liberal Arts Colleges with special recognition in the categories of Social Mobility Index and Ethnic Diversity. The rankings compare bachelor's degree-granting institutions from across the U.S. on 15 diverse measures of academic quality. Liberal arts colleges, as defined in the U.S. News listing, focus almost exclusively on undergraduate education and award at least half of their degrees in the arts and sciences. 
 
Wesleyan featured in The Princeton Review's Guide to Green Colleges: 2019 Edition
For the second consecutive year, Wesleyan is one of the nation's most environmentally responsible colleges, according to The Princeton Review. The College earned a rating of 84/99.
The Princeton Review chose the 413 schools based on a survey the company conducted in 2018–19 of administrators at hundreds of four-year colleges about their institutions' commitments to the environment and sustainability. 
"We salute—and strongly recommend—Wesleyan to the many environmentally-minded students who want to study and live at a green college," said Rob Franek, The Princeton Review's Editor-in-Chief.
Franek noted that college applicants and their parents are increasingly concerned about the environment and sustainability issues. Among the 11,900 teens and parents The Princeton Review surveyed earlier this year for its 2019 College Hopes & Worries Survey, 64% said that having information about a college's commitment to the environment would influence their decision to apply to or attend the school.
 
The Princeton Review's Best in the Southeast, 2020 Edition
The New York-based education services company features Wesleyan College in the Best in the Southeast section on its "2020 Best Colleges: Region by Region" website, giving the College the high ratings of 86 for quality of life, 87 for enrollment selectivity, 83 for academics and for financial aid, and 84 for being a green college.
 
Kiplinger ranks Wesleyan as one of the nation's "BEST VALUE" Private Liberal Arts Colleges, 2019 
According to Kiplinger, the 80-year-old Washington, D.C., based publisher of business forecasts and personal finance advice, the average sticker price at private nonprofit colleges, including tuition, fees, and room and board for the 2018-19 academic year was $48,510. Wesleyan's price was 30% lower at $34,030 -- $14,480 below the national average -- proving that students don't have to pay a fortune or rely on financial aid to attend a top-quality private college or university. 
 
James Magazine ranks Wesleyan College in two top 10 lists in 2018
TOP COLLEGES - #5 Wesleyan College
Rankings are based on undergraduate institutions that offer limited, if any, graduate programs. James' rankings are based on criteria that include admissions standards such as standardized test scores, career placement after graduation, and more.
 
TOP SUCCESS RATE - #9 Wesleyan College
According to James, raising graduation rates is one of the biggest priorities for Georgia schools. This set of rankings list the colleges and universities that are tops for making sure their students have the tools to graduate and succeed.
Wesleyan College featured in THE PRINCETON REVIEW'S GUIDE TO 399 GREEN COLLEGES: 2018 EDITION
The Princeton Review chose the schools for this ninth annual edition of its "green guide" based on data from the company's 2017-18 survey of hundreds of four-year colleges concerning the schools' commitments to the environment and sustainability. Sustainability is intentionally integrated into Wesleyan's curricular and co-curricular teaching and learning. The campus community has adopted procedures to encourage greater participation in recycling by placing sorting receptacles for paper, plastic, and aluminum on each floor of the residence halls and water refilling stations in many building on campus.
NOTE: Wesleyan College is among a growing number of colleges and universities to sign a statement prepared by the Education Conservancy advocating changes in the U.S. News annual college ranking. By signing the statement, Wesleyan specifically agreed not to participate in the U.S. News peer assessment survey but will continue to provide all other data to the publication. By opting out of the survey's largest section, colleges intend to encourage U.S. News to alter its methodology, to promote best practices within the higher education industry, and to offer consumers a better resource guide. Wesleyan College supports a national initiative to provide comprehensive public information to help prospective students judge the quality of higher education institutions. Go to: www.ucan-network.org